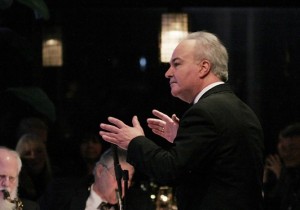 On March 4th & 5th last the Nelson Riddle Orchestra took to the stage for a very intimate series of shows that recaptured the essence of those iconic studio sessions. The with Christopher Riddle at the helm the show was an overwhelming success.
With an audience capped at 150 for each of the three shows and the close setting of McLoone's supper club there was an air of unity with audience and orchestra sharing a very special experience as the original Nelson Riddle charts came to life, in some cases for the first time ever since their initial recorded performance. Nelson's iconic sound is safe in the hands of Christopher Riddle with every nuance and characteristic of the arrangements ringing true.
Soloists Bryan Anthony and Shawnn Monteiro brought their own interpretation to the lines onces graced by such legends as Nat Cole, Ella Fitzgerald, Frank Sinatra, Peggy Lee and Linda Ronstadt to name but a few.
The Nelson Riddle Show – Studio Sessions was part of ongoing development by the Riddle Trust, spearheaded by Nelson's eldest daughter and NJ resident Rosemary Riddle Acerra. The family Trust is currently working on creating a larger stage show as part of a major initiative to preserve and pass on the iconic stamp and signature sound that Nelson Riddle imprinted on American music and a global audience.
Feb 10, 2010 – Tickets are $79.95 and include prix fixé dinner. While the shows begin at 7pm doors open at 6pm for dinner. Last time a few hundred had to be turned away due to the phenomenal demand, so patrons are encouraged to book early to ensure seating.